Bluestacks 4 - the best software to play Android Games on Computer. This software works well in Windows 7/8/10 and minimum 2GB RAM is enough to use Bluestacks 4.
Bluestacks 4 Download | Play Android Games on Computer
Bluestacks 4 - the best software to play Android Games on Computer. This software works well in Windows 7/8/10 and minimum 2GB RAM is enough to use Bluestacks 4.
BlueStacks 4 the Ultimate Emulator to Play Android Games on Computer
There are several Android Game Emulator to play Android Games on Computer. But today I am sharing the best Emulator among various Emulator and it is Bluestacks 4. There are 4 version of bluestacks have. But I only sharing the version 4 of of Bluestacks.
Whats new in BlueStacks 4?
It's 6 times more faster than Samsung Galaxy s9+

8 times more faster than Bluestacks 3

Core game playing functions as part of main UI

Key controls are divided into categories for easier navigation's

You can play multiple games from multiple Google Play Accounts at once

You can earn Bluestacks points by playing your favorite games

Get exciting items from the BlueStacks Store in exchange of BlueStacks Points

Get access to the exclusive Pro Gamer Series of gaming tools

And latest version of BlueStacks 4 v4.32.75 is only 410MB
You can download BlueStacks 4 from the developers website. Because it is completely free of charge. Or you can directly download this game from here.
This software is more powerful than the previous version and it supports various Game Pad. It also playable in Windows 7, Windows 8, Windows 10. Just be sure that you have minimum 2GB RAM.
Here see the demo of Bluestacks 4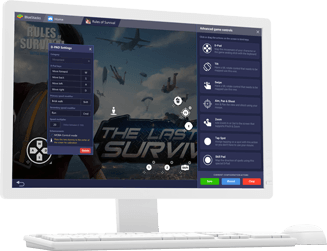 Most powerful Emulator to play Android Game in Android
Installation Guide of BlueStacks 4 from YouTube Video
Some Common Questions, Features about Bluestacks 4
Question 1: What is the Best Emulator to play HD or 3D games in Computer Bluestacks 4 or Tencent Buddy?
Answer: Tencent buddy hides the buttons completely so that you don't have to do it yourself. Bluestacks 4 works well and you can use it for pretty much every Android app.
Tencent buddy for me is terrible. It doesn't map all buttons etc. so either I can choose to be able to aim in and not jump or be able to jump but not aim. It doesn't matter which resolution I choose or anything else. Bluestacks 4 works like a charm and maps every button correctly.
Question 2: How to fix RPC Error "Error retrieving information from server"
At first click on setting tab

Then click report a problem

After clicking report problem, select Category as "App Related Issues" and Subcategory as "Unable to download app". You will get a troubleshooter prompt. Click "yes" to continue troubleshooting issue

The troubleshooter will automatically solve the problem

After that you just restart the bluestacks

To restart bluestacks just click settings > restart

Thats all
Questin 3:
What is the system requirement of Bluestacks 4?
Answer:
OS:

Microsoft Windows 7 and above.

Processor:

Intel or AMD Processor.

RAM:

Your PC must have at least 2GB of RAM.

Hard Disk Drive:

4GB Free Disk Space
You must be an Administrator on your PC
Up to date graphics drivers from Microsoft or the chipset vendor
Question 3:
Could I play
PUBG MOBILE
on BlueStacks 4?
Answer:
Yes, you can. But you need to keep minimum system requirement of BlueStacks 4.
Here some game suggestion you may could play on BlueStacks 4
Mekorama - Puzzle Game,
Shoot the Zombirds - Shooting Game,
Sky Force Reloaded - Air Fighting Game,
If you face any problem on BlueStacks 4 don't forget to comment bellow.